Learn Spanish on a Cultural Holiday
Discover Cáceres: a historic hidden city
Enjoy fully tailored language classes
Have lots of fun on organised activities
Join arranged conversation exchanges with locals
Gain confidence practising Spanish all day
Benefit from a close relationship with your teachers
31 May – 7 June 2020 – Cáceres, Spain
Early bird €997
A worry free trip: we look after you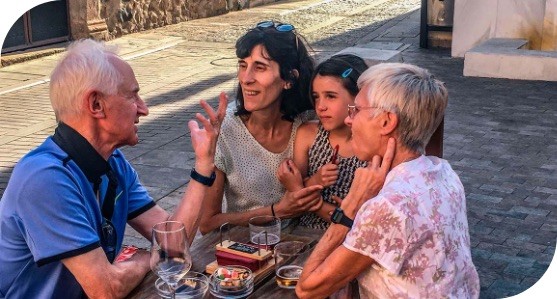 An authentic experience
" The activity I liked the most during the course was the Language Exchange. We were speaking to the family and closest friends of the teachers… That was brilliant!
We met up in a bar and chatted in Spanish. Every few minutes we would change and talk to a different person.
I felt very relaxed with them because everyone was so friendly!
I think it would be very hard to find that in any other course. "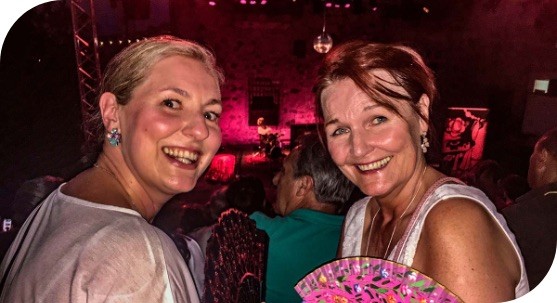 Everyone is very well looked after
" While on the trip in Cáceres, I started feeling unwell.
I mentioned to the teacher that I ́d like to see a doctor. He came with me to a clinic. Within 30 mins, a doctor was seeing me and Lolo (the teacher) was there to translate everything for me.
Luckily it was nothing serious and I felt better after resting. But Lolo kept checking on me to make sure I was okay. I felt very well looked after. He's one in a million! "

"We practise Spanish in real life every day"
Everyday we learn something new in class, like how to buy food, clothes, go shopping or ask for directions. Then later we go downtown and practise what we have learned.
For example, we went to the local market. There we had a series of tasks to complete, like buying typical products such as "botijo" so we had to speak to the vendors at the stalls. It was lots of fun and gave us more confidence.
Cáceres
A stunning place full of friendly people

Cáceres is gorgeous, historic and so easy to get around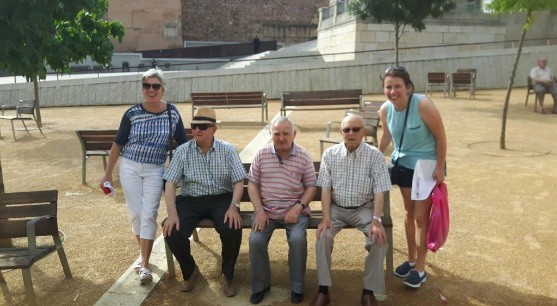 I didn't want to leave.
"I didn't know anything about Cáceres before the trip. But from the moment I arrived I felt at home. Caceres is so beautiful, full of history and easy to get around. And people are extremely friendly.
During my free time, I would go for walk in town. Once I was looking for a hairdresser and asked a local girl. She was so helpful and walked me to the nearest one and even helped me book it.
Everyone is so friendly! At the end of the week, I didn't want to leave."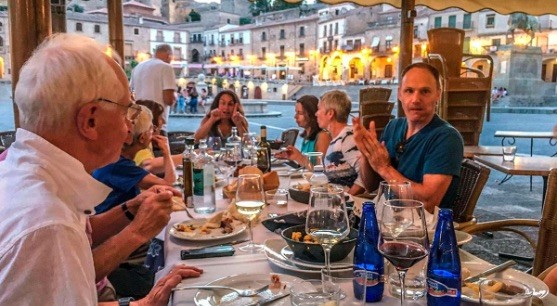 I had been on other Spanish courses but this one is different.
"The teachers have a lot of enthusiasm and it's contagious! It's not just classes, they spend so much extra time with us: having coffee breaks, dinners, trips, etc. as brilliant!
In the evening we meet for a meal and speak in Spanish. Inma always has a little notebook and would write the words down for us. But there is no pressure to speak Spanish all the time. It's a bonus and we learn extra things with them."

Testimonials
Language Holiday to Cáceres – 7 days
Sunday, 31 May – 7 June 2020
Group size: 12 people
Transfer from and to Madrid airport by private bus
7 nights in a charming central hotel with breakfast
Spanish lessons (15 hours in total)
Daily cultural activities & workshops
2 Day trips
All learning materials provided
No hidden extra costs – you only pay for your meals
| Normal Price | Early bird price |
| --- | --- |
| € 1145,- | € 997,- |
Booking deposit: €150
Free cancellation until 1st May, 2020
FAQ
When can I book my flight?  

The nearest airport to Caceres is Madrid. Your arrival flight should be in Madrid before 12.00 midday to be in time for the connecting bus transfer. The return flight must depart Madrid after 3.00pm. You must contact us before booking your flights to confirm availability on the course and to provide your flight details.
What hotel will I be staying in?

Accommodation in the gorgeous Hotel Don Carlos on a bed & breakfast basis in a double room (single occupancy) . The hotel is right in the middle of town, just 5 mins walk from the classes and local amenities. Arrangements can be made for other hotels if required.
Can I come early or stay longer?

Of course, you can arrive before the course and stay longer after the course. This course includes 7 nights at the hotel, so you must arrange the extra accommodation yourself. Some students make the trip a longer holiday to visit Spain. If you arrive earlier or leave later we won't be able to provide a bus transfer to or from Madrid airport, as the transfer is only for the arranged course dates.
Do I get my money back if I cancel my trip?

If you need to cancel your trip within 30 days before the trip, we will refund your money in full. If you cancel less than 10 days before, we will refund you the course fee minus the booking deposit.
Do I need to have my own private health insurance?

If you are an EU citizen, you should get a free European Health Card (blue card), which will allow you to visit a public doctor for free. You can also go to a Private Clinic and pay their fees (we can help you with this if needed). You can also arrange Private Health Insurance.
How can I get the early bird discount?

If you see it available on our website, it is available, as simple as that.
Should I book travel insurance?

We always recommend that students arrange travel insurance, for peace of mind.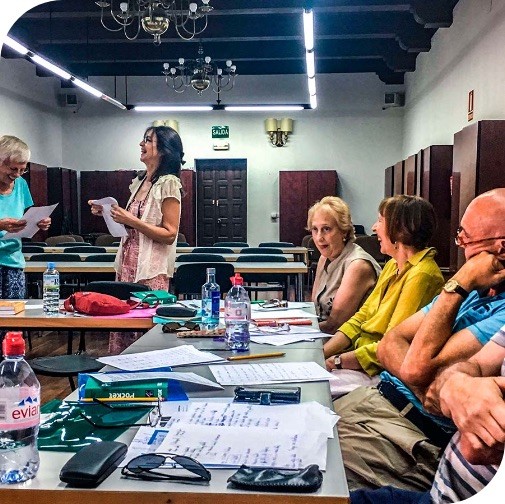 Is this course for me?
"I have been studying Spanish on my own but I've never been to a class. I was a bit nervous and wasn't sure if my Spanish was good enough to come on this trip. But after talking to Lolo, I knew that I wanted to come on this trip.
During the course, everybody was encouraged to participate and yet there was no pressure to be good at Spanish. Plus we always had two teachers in the class and during the activities to help us. We all felt included and I enjoyed every bit."
Declan
More than 10 years experience bringing Spanish to life