Online Spanish Classes
Relaxed and fun atmosphere
Interactive, personal & easy to follow lessons
Lots of resources to practice before and after class
Same methodology as face-to-face classes
Highly qualified & experienced native teachers
Meet your teacher, find your level, plan your next class
Your satisfaction is our priority
Learn without pressure
What matters most to us is that you feel comfortable in class. So it is okay if you want to talk about a topic you already know, learn something new or do some revision. You decide how to use your time in class and when you are ready to move forward.
Progress with a personal learning plan
After your first free online class, we will create a tailored learning plan for you. The classes will be fully tailored to you, using various types of activities to help you learn at your pace. You will receive materials before and after your classes at no extra cost, to practice between classes.
We will help set up on your first online class
Online classes are very easy to follow, and taking part is lots of fun! We´ll help you set it up before your first class if you need it, so you won't have to worry afterwards.
Group & Individual Classes
Online Group Classes
We recommend Group Classes because:
They are more fun and interactive.
You will enjoy a relaxed communicative environment.
Lots of resources to practice before and after class
It's a great opportunity to socialise.
You can align learning goals with fellow students.
Meet your teacher, find your level, plan your next group class
6 Week Course – €90 – Price for all levels
Online Individual Classes
With customised Individual Lessons:
You have more time flexibility.
You can set specific goals (exams, work, conversation).
You feel more at ease in a private environment.
You will progress at your own pace.
Meet your teacher, find your level, plan your next individual class
Price from €25 per Private Lesson
Meet our teachers
We are more than Spanish native speakers: we have are highly qualified language teachers with many years of experience.
We will hep you improve your Spanish with specific activities, adapting them to your personality, learning preference and interests.

You will get to know your teacher at the free trial class before starting your one to one or group lessons.
Meet your teacher, find your level, plan your next class
Testimonials

Carmel
"Everything was organised for us to make it so easy to enjoy. "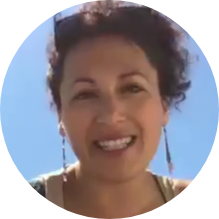 Amani
"Lolo gives all his energy, and love and positive vibes to make sure we are learning as much!"

Lorraine
"I don´t think I have ever been to a language class where the teacher was so good!"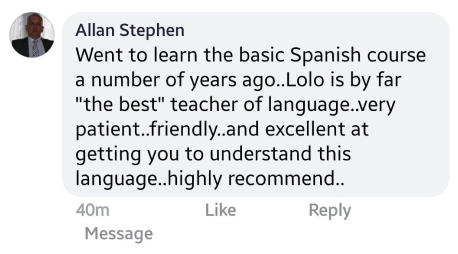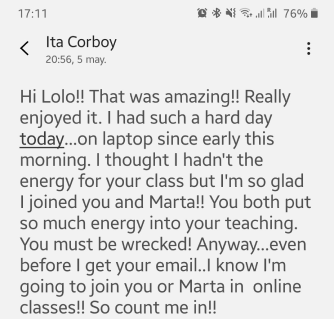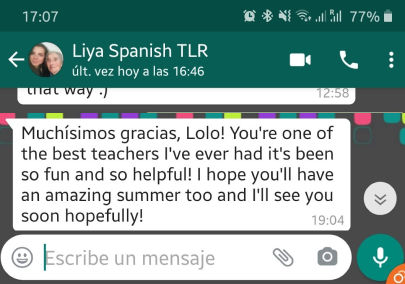 I highly recommend Inma for beginner to advanced classes in Spanish. She is a great teacher who has a wonderful approach to learning. – Tim
Meet your teacher, find your level, plan your next class
FAQ
What kind of equipment do I need?

We recommend using a PC / Laptop which should have a webcam and microphone. It will be easier to use and will provide a more pleasant learning experience. Some of our students are happy using an iPad/tablet but you won´t have the same interactivity as you won´t have a mouse or phisical keyboard.
How do I connect to the online class?

The classes will take place on the ZOOM application so you'll need to install that on your device (https://zoom.us/download). Select the 'Zoom Client for Meetings' option. We will send you a link to join your class. We recommend to do this a few minutes before the class begins so you can test your microphone and camera.
When do group classes take place?

Group classes will be held once a week, same day and time for the duration of the course. You will be assigned a group for your level. There is some flexibility Class duration is 1 hour 30 mins.
We run many courses a year in blocks of 6 weeks, from September to July. Check here our full Schedule of Classes.
When can I do individual lessons?

Private lessons are arranged at a day and time that suits you, as often as you like. A typical one-to-one class is 1 hour long. We ask students to book it for the same day and time every week to help organize our agendas. Our teachers are available from Monday to Friday, from 8 am to 8 pm GMT (9 am – 9 pm Central European Time).
How can I pay for the classes?

You can easily pay at our website using your Bank Card or PayPal. Bank transfer or Revolut is also available. All our classes are prepaid in blocks: 6 lessons for group courses and 5 or 10 lessons for individual classes.