Hola a todos!
Gracias por venir a la clase de español. Espero que te gusta la clase y que aprendes mucho. 😊
Thanks for coming to your online Spanish class last week. I hope you liked it and learned loads!
Note in bold underlined the attached files and in blue underlined the website links to practice online. Documents such as PDF have a (Download) button.
NOTES FROM YOUR LAST CLASS
Here you are the notes from your last online Spanish class on 1 de diciembre (class #10 of 10):
Chat – with some of the vocabulary from the chat box on file: Chat Beginners 1.txt
Screenshots: these are images related to the activities you did in class: Revision of useful expressions to ask for and give directions in Spanish with the map, the revision game Kahoot plus the VIDEO with tourists in Barcelona:

REPASO DIRECCIONES 1 & 2 – a revision of last week´s vocabulary
MAPA DIRECCIONES – DONDE ESTA – DONDE HAY
KAHOOT Curso de español – Revision of the Spanish for Beginners course contents
VIDEO TURISTAS EN BARCELONA – where tourists comment on their favorites things about Spain and you mark the the words from the table that you hear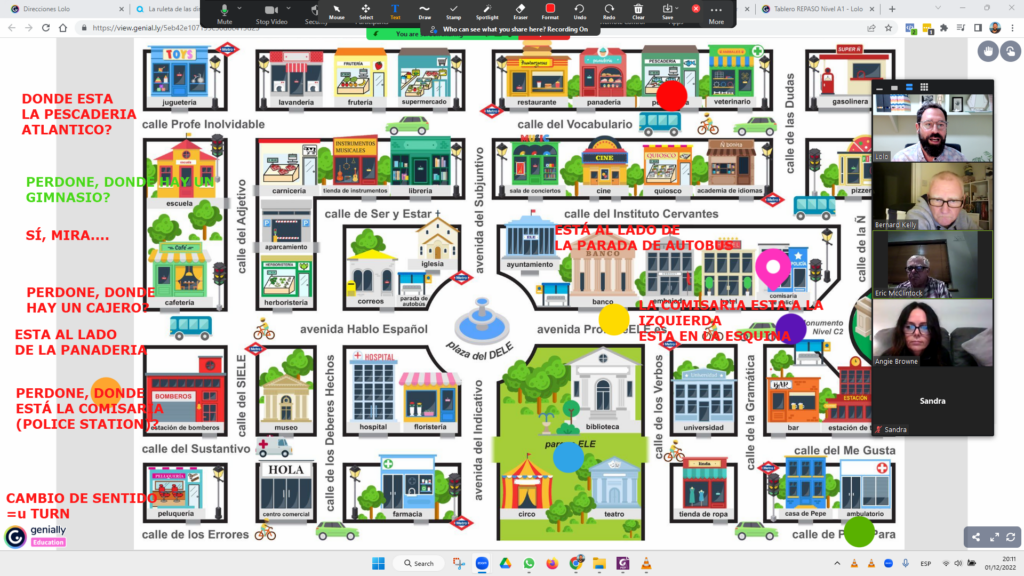 https://us06web.zoom.us/rec/share/9bdk1eWu7H5-Dd9yaSyrm4wyBKNLkBkE6yjSFk81rsp7grScuzWMhn8yS8kUp6hu.V_DWvFVTB-qJlups
---
HOME PRACTICE
These are some activities to practice at your own pace at home:
CONVERSATION BOARD: if you feel like like practising what you´ve learned, here is this conversation panel with many topics of conversation. Choose one and write your personal answers using the sample for each question that appears when you click on the grey circle: https://view.genial.ly/60db3f4161dbed0dd1bd4ef4 – Don´t worry if you don´t understand some of them, we will cover it in the next term of lessons.
VIDEO TURISTAS EN BARCELONA: this is the video we watched in class where tourists in Barcelona explain what they like most about Spain:
---
¡FELIZ NAVIDAD Y PRÓSPERO AÑO NUEVO 2023! 🌲🎁🍾🥂🥳
I would like to thank you hugely for joining this Spanish course and being with a smile each week! It´s been a pleasure to share this experience with you!
¡OS DESEO UNA FELIZ NAVIDAD Y UN PRÓSPERO AÑO NUEVO 2023! 🌲🎁🍾🥂🥳
We will resume our lessons week commencing February 7, 2023 – with the follow-up course Beginners 2 starting on February 9th. Here you have the class schedule for 2023 where you can register for next term: https://hablainstitute.com/schedule-of-classes/
---
Looking forward to seeing you in the New Year! Have a great time during the Christmas Holidays!
My warmest regards,
Lolo & Team – Habla Spanish Institute
Hasta pronto!  😊