Hola a todos!
Gracias por asistir a tu clase de español. Espero que te gusta la clase y que aprendes mucho. 😊
Note in bold underlined the attached files and in blue underlined the website links to practice online. Documents such as PDF have a (Download) button.
APUNTES DE LA ÚLTIMA CLASE
Aquí tenéis los apuntes de tu última clase el día 23 de marzo de 2023 (clase 7 de 8):
Chat – con el vocabulario de vuestra conversación en clase:
Screenshots: estos son imágenes relacionadas con las actividades de clase:
---
PRACTICA EN CASA
Puedes practicar las siguientes actividades en casa:
VIDEO "ARGENTINA Y COLOMBIA": in this video 2 people talk about the cultural aspects of their home countries: Argentina & Colombia. Please watch it and take notes of what you understand about each country. Complete the worksheet below related to the video: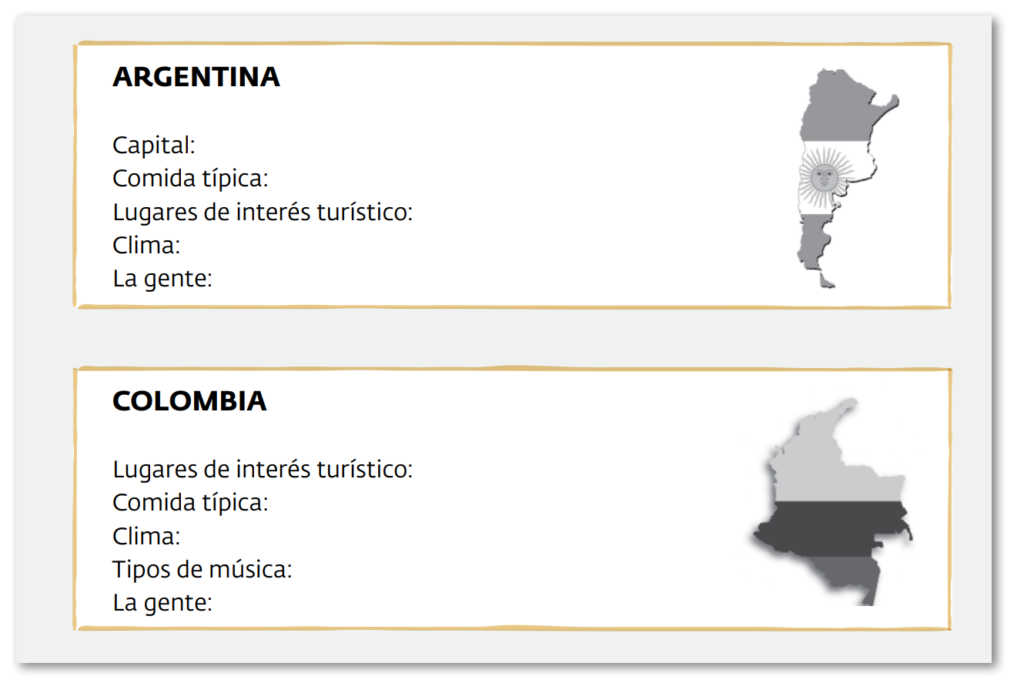 ONLINE QUIZ – NICARAGUA O PUERTO RICO: to practice more SER, ESTAR y HAY, here you are this online quiz. Choose the correct option for each phrase and choose what country they refer to: Nicaragua or Puerto Rico:
VIDEO LUGARES TURISTICOS DE CHILE: this is the short video we watched in class showing different tourists destinations in Chile:
EJERCICIOS DEL LIBRO: if you´d like to practice what you learned in class, we recommend doing the following exercises from your course book. We can correct them next week in class:

EJERCICIOS 3,4, 5 y 6 – página 155
EJERCICIO 7 – página 156
---
PREPÁRATE PARA LA SIGUIENTE CLASE
En la próxima clase vamos a hacer la actividad 5. ARGENTINA TIENE MAS DE… de la página 47 del libro.
También hablamos en grupos con un cuestionario y hacemos un concurso de preguntas (quiz) sobre la cultura española! 🙂
COURSE BOOK: Aula internacional Plus 1 – where to find it:
MP3 AUDIO FILES – BOOK AULA 1 plus : use the following link to download the audios from your course book: https://difusion.com/tienda/aula-internacional-plus#recursos – choosing Aula Internacional 1 Plus
---
Eso es todo de momento, amigos. Nos vemos la semana que viene en el mismo link:
Zoom link: https://us06web.zoom.us/j/85945470943
Pasa una buena semana! 😊