Hola a todos!
Gracias por asistir a tu clase de español. Espero que te gusta la clase y que aprendes mucho. 😊
Note in bold underlined the attached files and in blue underlined the website links to practice online. Documents such as PDF have a (Download) button.
APUNTES DE LA ÚLTIMA CLASE
Aquí tenéis los apuntes de tu última clase el día 27 de abril de 2023 (clase 2 de 8):
Chat – con el vocabulario de vuestra conversación en clase:
Screenshots: estos son imágenes relacionadas con las actividades de clase:
---
PRACTICA EN CASA
Puedes practicar las siguientes actividades en casa:
PREGUNTAS – INTERROGANTES: this is the online presentation and activity we did in class to learn about the different words to use in questions, such as Que, Como, Cuando, Donde, etc. Click on the right arrow for move along slides:
QUE TIEMPO HACE: escribe en tu cuaderno QUE TIEMPO HACE en los diferentes lugares de la imagen. Puedes buscar información en internet si no lo sabes: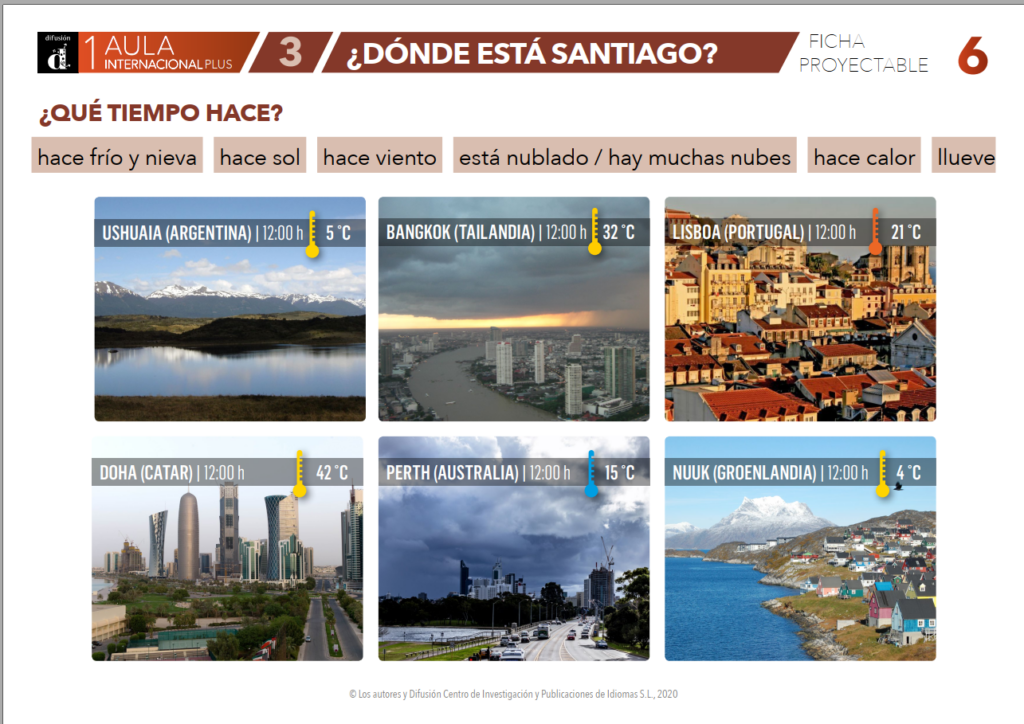 VIDEO VENEZUELA: aquí tienes el video de Curiosidades de Venezuela que vemos en clase. La actividad está en la pagina 55 del libro:

Puedes ver el video otra vez y tomar nota de las expresiones que comprendes.
También escribe las frases que no comprendes y corregimos en clase la semana próxima.
EJERCICIOS DEL LIBRO: if you´d like to practice what you learned in class, we recommend doing the following exercises from your course book. We can correct them next week in class:

EJERCICIOS 15 y 17 – página 159
EJERCICIO 7, página 156
---
PREPÁRATE PARA LA SIGUIENTE CLASE
En la próxima clase vamos a empezar la unidad 4 – CUAL PREFIERES – en las paginas 56 y 57 del libro. Si tienes tiempo, relaciona las imágenes con los productos que puedes comprar.
También hablamos en grupos para practicar diferentes temas de conversación usando este tablero:
COURSE BOOK: Aula internacional Plus 1 – where to find it:
MP3 AUDIO FILES – BOOK AULA 1 plus : use the following link to download the audios from your course book: https://difusion.com/tienda/aula-internacional-plus#recursos – choosing Aula Internacional 1 Plus
---
Eso es todo de momento, amigos. Nos vemos la semana que viene en el mismo link:
Zoom link: https://us06web.zoom.us/j/85945470943
Pasa una buena semana! 😊