Hola a todos!
Gracias por venir a la clase de español. Espero que te gusta la clase y que aprendes mucho. 😊
Note in bold underlined the attached files and in blue underlined the website links to practice online. Documents such as PDF have a (Download) button.
NOTES FROM YOUR LAST CLASS
Here you are the notes from your last online Spanish class on 28 de septiembre (class #2 of 10):
Chat – with some of the vocabulary from the chat box on file: Chat Beginners 1.txt
Screenshots: these are images related to the activities you did in class:

Que significa

ACT 1 – PALABRAS EN ESPAÑOL

ACT 3 – ESTUDIANTES

DATOS PERSONALES 1

DATOS PERSONALES 2

ACT 2 – MASC O FEM

NUMEROS 1 – 100
---
HOME PRACTICE
These are some activities to practice at your pace at home:
EJERCICIOS DEL LIBRO: if you already have the book, I recommend doing the following exercises from your course book, which we will correct in the next class:

EJERCICIOS 3, 4 & 5 – pages 141-142
NACIONALIDAD O PROFESION: you can practice and learn more vocabulary about occupations and nationalities here: https://learningapps.org/watch?v=p92nadefk22 classify the words dragging them to the correct colour, then click on the blue circle to check your answers.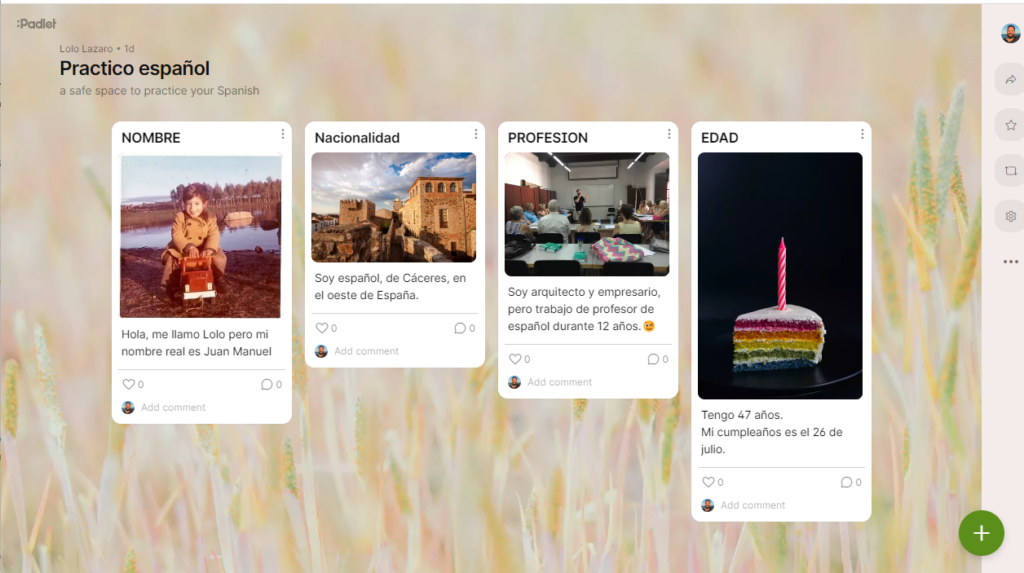 ---
PREPARE FOR NEXT CLASS
If you have the time, please have a look at these activities to prepare for your next class:

ACT 4 – EN LA RECEPCION – page 4 on your course book
---
That´s all for now, amigos. We´ll see each other in class on the same link
Zoom link: https://us06web.zoom.us/j/82068044705
Hasta pronto! 😊