Hola a todos!
Gracias por asistir a tu clase de español. Espero que te gusta la clase y que aprendes mucho. 😊
Note in bold underlined the attached files and in blue underlined the website links to practice online. Documents such as PDF have a (Download) button.
APUNTES DE LA ÚLTIMA CLASE
Aquí tenéis los apuntes de tu última clase el día 30 de marzo de 2023 (clase 8 de 8):
Chat – con el vocabulario de vuestra conversación en clase:
Screenshots: estos son imágenes relacionadas con las actividades de clase:
---
PRACTICA EN CASA
Puedes practicar las siguientes actividades en casa:
ONLINE QUIZ – NICARAGUA O PUERTO RICO: to practice more SER, ESTAR y HAY, here you have this online quiz which we did in class. Choose the correct option for each phrase and choose what country they refer to: Nicaragua or Puerto Rico:
VIDEO "MEJORES LUGARES TURISTICOS DE ARGENTINA": in this video you can different places of the geography in Argentina:
AUDIO Y TRANSCRIPCION- ARGENTINA TIENE MAS DE: if you´d like to listen again to the audio from the activity on page 47 in your book that we did in class, here you have the audio file and the transcript to learn more:
EJERCICIOS DEL LIBRO: if you´d like to practice what you learned in class, we recommend doing the following exercises from your course book. We can correct them next week in class:

EJERCICIO 7 – pagina 156
EJERCICIOS 9 y 10 – pagina 157
PRACTICAR MAS: PERU O NICARAGUA: if you´d like to practice the vocabulary and expressions we learned in this lesson, write a short text with information about one of these 2 Spanish speaking countries. You can search information in the internet: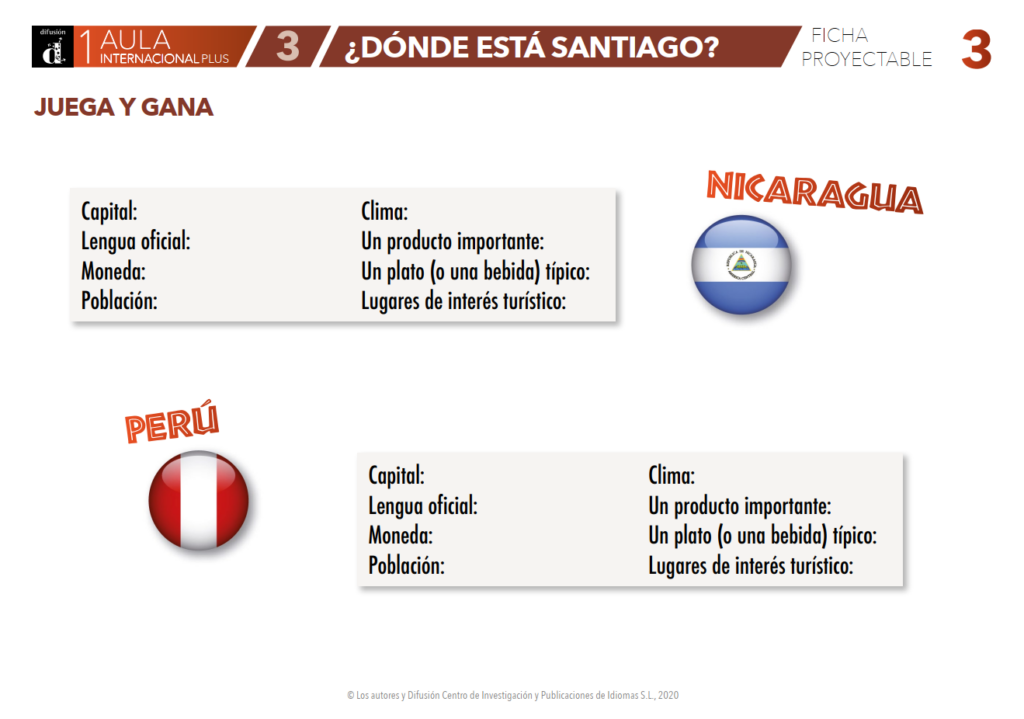 ---
PREPÁRATE PARA LA SIGUIENTE CLASE
We are going to take a break during the next 2 weeks, so we will resume the lessons on April 20th, same day & time as before.
COURSE BOOK: Aula internacional Plus 1 – where to find it:
MP3 AUDIO FILES – BOOK AULA 1 plus : use the following link to download the audios from your course book: https://difusion.com/tienda/aula-internacional-plus#recursos – choosing Aula Internacional 1 Plus. If you prefer, you can download them on this link:
---
Eso es todo de momento, amigos. Nos vemos dentro de dos semanas en el mismo link:
Zoom link: https://us06web.zoom.us/j/85945470943
Pasa una buena semana! 😊