If you are a "guiri" like me (Spanish word for "foreigner") and sign up for a Spanish language course in Spain, you hope to learn some Spanish, probably have fun and with a bit of luck, discover a new place and meet interesting people.
But what I found in these courses was so much more than that.
Learning Spanish: the Importance of Real-Life Practice
One of the greatest strengths of this course is its teachers: Inma and Lolo. No matter how much Spanish you have when you start the course, after a week with them you'll be able to speak Spanish with ease and confidence, and enjoy everyday communication with the locals.
But how do they do it? By making us take everything we learn in class and practice it later, going out and about talking to real people: Lolo and Inma call this 'Españoleando'.
Once the morning classroom lessons are over Inma and Lolo join us for the rest of the day's activities: they take us to parts of the city that don't appear in any guidebooks, they join us for a cooking workshop, they make us mingle with the locals so we can hear and speak authentic Spanish. They take us out for dinner to off-the-beaten-track restaurants and they come along with us to visit local villages. This way we get a chance to listen to and speak Spanish all day, while at the same time having great fun with each other and with the locals.
Just to give you an example, I'll tell you about one of my favourite activities: 'Gymkana' or City Treasure Hunt. In this activity you'll have to find a series of destinations using clues. To do this, you'll need to interact with the locals at each stage to get the information you need to continue. For instance, at the local market, I had to go behind the counter of the stall and pretend to be the seller!
Some pictures from our daily activities: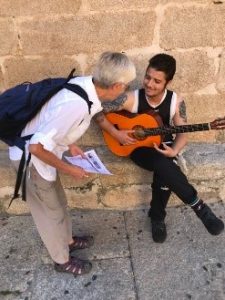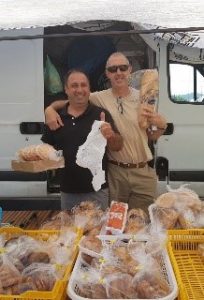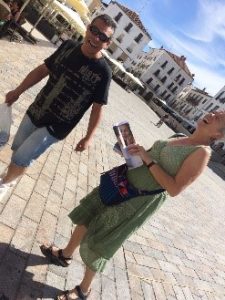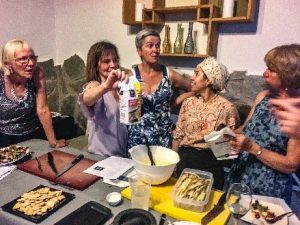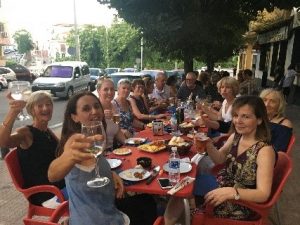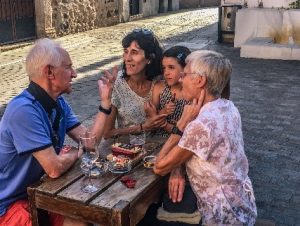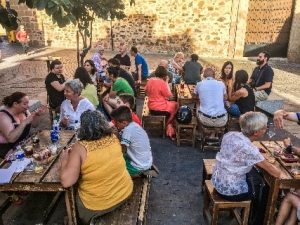 ---
HABLA: Course Destinations
Málaga
Maybe you´re thinking: I've been to Málaga. It´s a bit touristy and lots of people speak English there. Well, don´t worry, you won´t be one of them!
Lolo and Inma have designed lessons and a range of activities to ensure you'll be in real-life situations where you'll practice Spanish. While doing these activities you'll be able to enjoy Malaga's rich and vibrant culture including markets, museums, local festivities and beautiful architecture. Malaga has something around every corner to surprise you!
Here is the calendar of activities to give you a better idea of the course schedule.
Download Calendar Activities Malaga 2019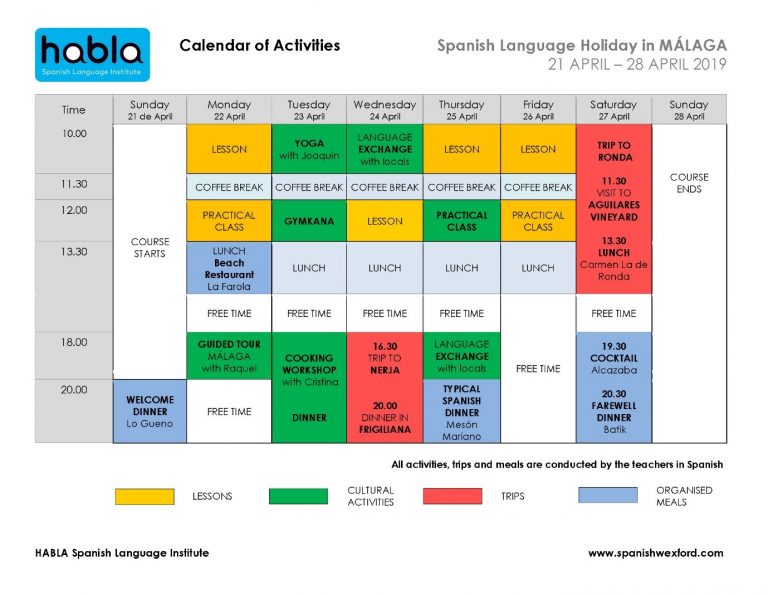 Cáceres
Caceres is far off the Spanish tourist trail familiar to most visiting Europeans. Up until now, it has remained a hidden secret, and while many Spanish tourists visit this stunning Unesco World Heritage City you'll be among the very few non-Spanish speakers there.
For this reason it is the perfect location to do a Spanish Course and experience the lifestyle of this authentic city, its rich culture, unique history and wonderful cuisine.
Once you´ve been there, you'll keep coming back. Believe me, I know what I´m talking about! This year I will be doing the course for the fourth time, and I am not the only one who´s returning!
If you´d like to see it for yourself, have a look at this video. If you join this course, I know you will enjoy it as much as I do.