Hola a todos!
Thanks for joining this Spanish for Beginners course. I hope you enjoyed your last class and you learned lots! 😊
NOTES FROM YOUR LAST CLASS
Here you have the notes from your last online Spanish class on 21 September 2023 (class #1 of 10):
Chat – this the vocabulary typed in your chat box in class:
Screenshots: these are images related to the activities you did in class:
---
HOME PRACTICE
These are some activities to practice and do some revision at home:
AUDIO – HABLA ESPAÑOL – OTRA LENGUA :this is the audio you listened in class to identify if someone is speaking Spanish or another language: (page 11 on book)
PRONUNCIACION: these are the online slides where you see the pronunciation of the different sounds in Spanish (click on right arrow for more slides): The five sounds are:

CH – like "chair"
H – it´s always silent (except CH)
Ñ – like "lasagne"
V – it´s pronounced like "B" always
Z – it´s pronounced like "TH" in "think"
ORDENA LA CONVERSACION: put the expressions in this conversation in the correct order (drag & drop) where 2 people greet each other, introduce themselves and say goodbye – Click on CHECK to see solution:
VIDEO – PRESENTACIONES- this is the video we watched in class where 2 people greet and introduce each other for the "first" time:
CRAZY LETTERS: order the letters in each expressions to find the greetings or goodbyes. You need to use them all: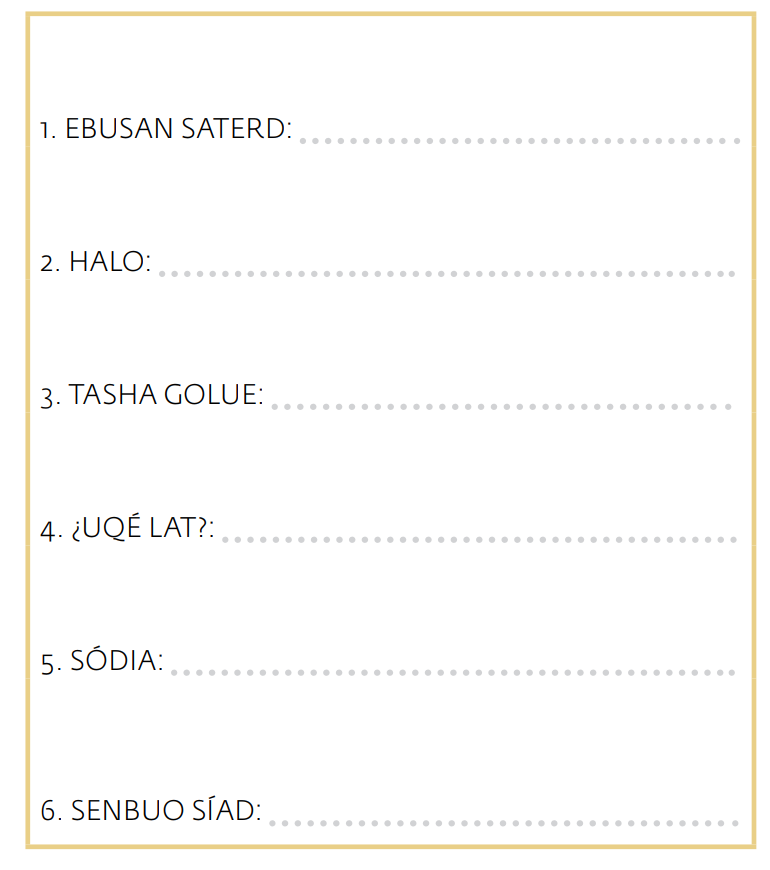 ---
PREPARE FOR NEXT CLASS
Next class you will learn about USEFUL PHRASES and PERSONAL DETAILS. If you have the time, please have a look at these activities. We will correct them in class next week:
USEFUL PHRASES: in the picture below, students are asking each other for help because they have an specific problem. Choose the phrases on the sides to complete the six blank bubbles: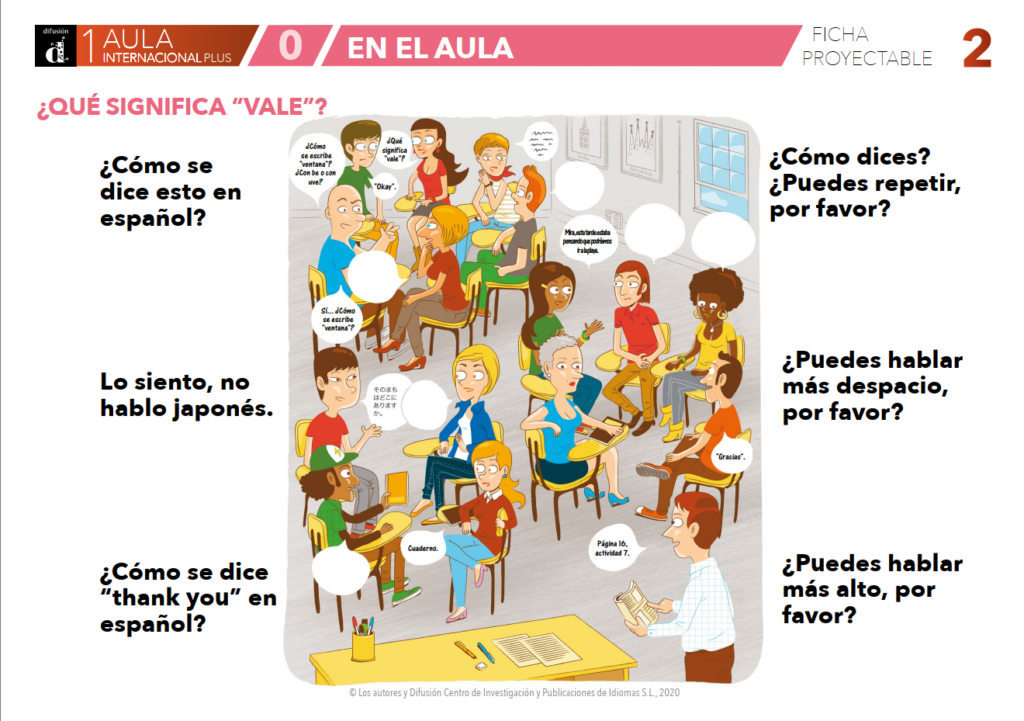 PERSONAL DETAILS: below you can download a copy of Unit 1 from your Spanish course book, which you can use until you buy it. Please have a look at the activity 3. ESTUDIANTES DE ESPAÑOL on page 18. Read the personal details of the 6 people and try to understand it.
COURSE BOOK:
In this course we will use the book AULA INTERNACIONAL PLUS 1 – which you can purchase on these shops:
BOOK AUDIO FILES: to download the audio files from your course book, please click on this link: https://difusion.com/material-descargable/audios_aula_int_plus_1.zip
---
That´s all for now, amigos. We´ll see each other in class on the same link
Zoom link BEGINNERS 1- THURSDAY 6.30 PM – https://us06web.zoom.us/j/85615104800
Hasta pronto!  😊